USAAF B-15 Flying Jacket, Rough Wear 6338 AF
The U. S. Army Air Force Type B-15 Intermediate Flight Jacket was developed from lessons learned in field use of the highly popular B-10 Flight Jacket of 1943. As early as 1942, the Materiel Division of the US Army Air Forces was seeking an alternative material to sheepskin for producing flying suits, and by October of that same year development had begun at Wright Field on the Intermediate Flying Jacket, Type B-10. Originally constructed of an outer shell made from a fine, cotton twill, and lined with an alpaca-and-wool pile lining, the B-10 Flight Jacket was standardized on July 22,1943, though it was superseded less than 9 months later by the B-15 Flight Jacket. Both the B-10 and B-15 Flight Jackets were designed as replacements for the sheepskin flight jackets of the 1930s and early 1940s, and represented the first cloth-shelled, alpaca fur-lined flight jackets of the USAAF. These flight jackets were an instant success with just about every aviator who encountered one, being much lighter and more versatile than the flight jackets they replaced. Intended for wear in climates between 25 degrees and 55 degrees Fahrenheit, the B-15 Flight Jacket was ideally suited for early spring and late fall and winter.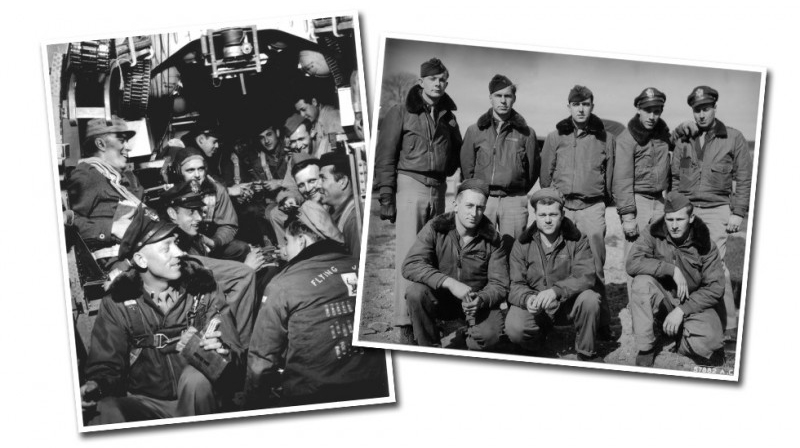 In May 1942, Hirsch-Werner, Inc. contacted the Army Air Corps offering a new, specially developed cloth they called "End-Zone Twill," which had previously been utilized in the manufacture of football pants because of its extreme durability and strength. When the B-15 was introduced, End-Zone Twill was used as trim on major stress and heavy-wear areas of the lining, though the Rough Wear Clothing Co., along with a few other manufacturers, received contracts for some of their entire production of B-15s Flight Jackets to be made completely of End-Zone Twill.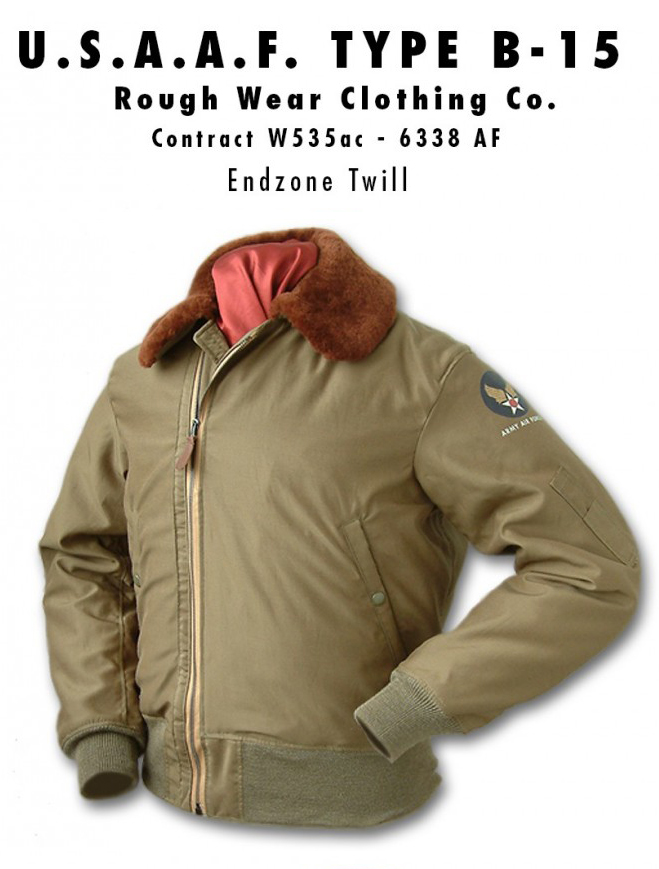 End-Zone Twill is manufactured with 100% cotton in the warp (the fibers than run in a longitudinal direction) and 100% rayon in the weft (the fibers that run in a latitudinal direction), giving the fabric a unique appearance of being shiny on one side and dull on the other. The density of the weave makes this fabric particularly strong; with 140 yarns per inch, this is an extremely dense cloth that feels both polished and hard on the surface, while wearing magnificently.
After endless negotiations and sampling from many textile manufacturers, we have finally struck gold and are now able to offer the definitive reproduction of the B-15 Intermediate Flight Jacket. This offering is a fabulous reproduction of the Rough Wear B-15 - contract 6338AF - made from the famous End-Zone Twill. We are confident the serious flight jacket enthusiasts are going to love this B-15; you have the opportunity to acquire the finest B-15 produced since the end of WWII.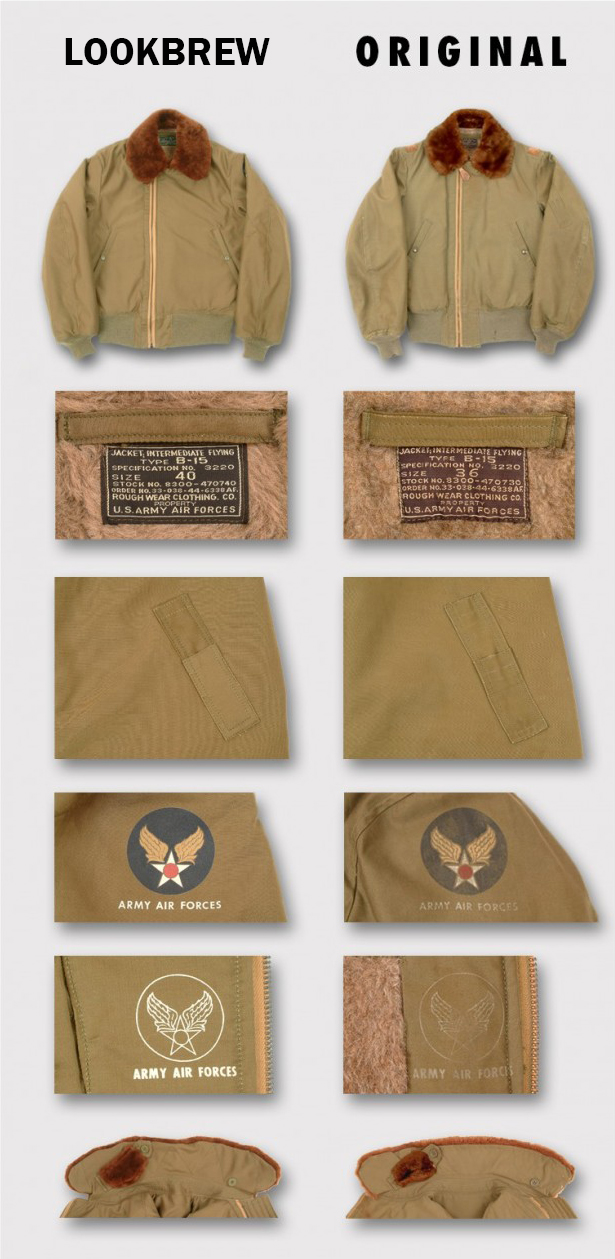 Eastman Leather has reproduced the B-15 Flight Jacket in exacting detail. Eastman's heavy, End-Zone twill fabric is never to be confused with the cheap, flimsy fabrics used by lesser manufacturers to produce so-called vintage reproduction USAAF flying jackets. In fact, the only other flying jackets in the world today made from this fabric are those original vintage examples of the USAAF! This B-15 Flying Jacket correctly captures all the nuances found on original vintage B-15 Flight Jackets, making this product virtually indistinguishable from an original vintage example of the USAAF. Take note of these authentic features:
• Copy of original maker's label design produced on a vintage shuttle loom
• Custom manufacturing of the correct weight and weave Olive Drab End-Zone Twill outer shell to precisely match original specs., and treated to repel water
• Correct USAAF spec. inner lining of warm alpaca-and-wool blend
• Gorgeous, plush, genuine mouton-fur collar with fur-padded button tab closure dyed to 1944 USAAF specs. of rich, deep-toned brown
• Two snap-down exterior pockets lined with warm off-white shade corduroy precisely matching 1944 USAAF specs.
• Two snap-down interior pockets lined with heavy all-cotton drill fabric precisely matching 1944 USAAF specs.
• Authentic copy of a Conmar-style zipper on jacket front, with cool-looking, contrasting tan-colored zip tape made of all-cotton HBT fabric, not incorrect poly-cotton
• Correct USAAF spec. leather pull tabs on zipper
• Custom manufacturing of the correct, all-wool knit cuffs and waist skirt in Olive Drab
• USAAF insignia transfer on left sleeve and wind flap behind zipper
Shop Now, Click the picture👇

👇